Matti Evans was your typical 15 year old teenager enjoying sports like cross-country, baseball and track at Dreher High School. This was a young man with no previous health issues and heading into some of the best times of his life. Then it all came to a halt on June 28, 2020, when Matti fell ill and had to be hospitalized. His diagnosis was ALL known as Acute Lymphoblastic Leukemia.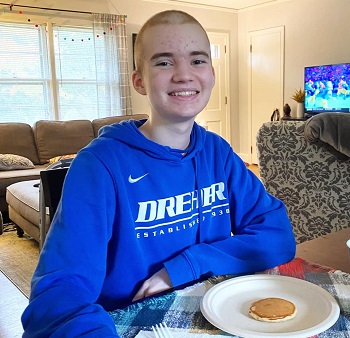 This would mark the beginning of Matti's long fight against this horrible disease. But this young man has a warrior's heart and his journey continued as he suffered through chemo therapy and radiation treatments and a ten week stay in the hospital.
Matti's spleen had enlarged to four times it's normal size and his liver had doubled in it's size. He was placed in a chemically induced coma for half of his stay in the PICU(Pediatric Intensive Care Unit) and fortunately he only remembers the last couple weeks of his stay.
"The hardest thing is trying to remain strong for your child as he goes through this," said Laura Evans, Matti's mother. "We were blessed with the treatment he received from Prisma Health Children's Hospital and their wonderful support."
Matti endured bouts with Ecoli and C Diff, an inflammation of the colon, infections that hindered his treatments and his discharge from the hospital. His weight dropped from 110 lbs. to a thin 70 pounds.
He was intubated and placed on a respirator twice during his stay and his chemo treatments caused seizures that could have ended his life.
His father, Jason, left his job in August to provide full time care for Matti. Matti was still in the hospital but Jason wanted to be sure that he was never alone or away from his family. To keep Matti's spirits high, Jason began to reach out to Matti's favorite sports teams and people. Nationally known singer, songwriter, record producer and musician Ben Bridwell of Irmo visited Matti and he received a signed cap from Javier Báez, shortstop for the Chicago Cubs. The Green Bay Packers sent lots of memorabilia thanks to his dad reaching out and Matti had a personal telephone call from Ryne Sandberg who is a former Cubs player, Baseball Hall of Famer & the person that Matti Ryne Evans is named after.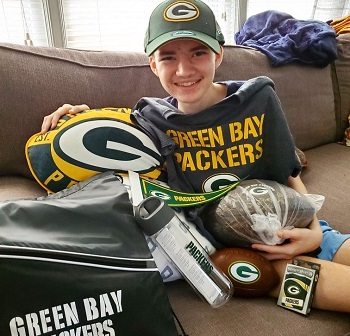 As the fight continued Matti had to endure through a few set backs but on September 5, after a total of 69 days in the hospital, Matti was finally discharged and allowed to return home.
His treatments must still continue and after months of inactivity his muscles have atrophied and now he endures intense physical therapy. His chemotherapy will be administered weekly for the next 3 ½ years and he is subjected to continuous clinical visits and tests.
And the bills add up. The cost for just his stay in the hospital and not including medications or other variables was more than 1.7 million dollars. Something that no family is equipped to deal with even with great insurance which the Evans did not have. Since this started help is being offered to the family through different sources and online accounts have been established to defray some of the costs.
GoFundMe at https://tinyurl.com/y2llwbc5.
Facebook Donation: https://tinyurl.com/y5ev2jv2
Venmo: https://tinyurl.com/y6splymy
A gmail account for messages it [email protected].
Matti hasn't given up and continues his fight. He is gaining weight and feeling stronger but he needs a cane to walk and he tires easily.
Anyone interested in helping in the Fight With Matti can keep up with his progress at https://www.facebook.com/fightwithmatti or any of the above links where donations can be made to his cause..
"Thank you all so very much for your continued help and support," said Laura. "It means the world to us and Matti."